Are you looking for more in your Avita Yoga practice? Interested in learning the fundamentals, history and the healing principles of Avita Yoga? This Avita Yoga Weekend Retreat is made for you! Jeff Bailey, Founder of Avita Yoga is offering an online weekend retreat where you can dive in and experience this innovative yoga practice for an entire weekend! Imagine that – an entire weekend of Avita Yoga from the comfort of your own in-home studio. Through-out the live feed, Jeff will be in-studio with others, giving you the feel of being in the studio and the classes will be live and interactive so that you can ask questions in realtime.
The weekend retreat is coming up – register today to begin your next level of Avita Yoga practice.
Expand and deepen your Avita Yoga practice
This weekend retreat comes to you live via zoom and is for anyone interested in learning more about the Avita Yoga practice, whether you are interested in teaching or taking your individual practice to the next level. Looking for an easy weekend get-away? This retreat is for you.
[button color="default" link="https://avitaonline.com/product/avita-yoga-weekend-retreat/" size="default" target="_self" block="false"]YES! I CAN'T WAIT FOR THE RETREAT[/button]
---
Itinerary Friday, June 19th – Sunday, June 21, 2020
Friday, June 19
6:00 pm – 7:15 pm
Where do we start? At the beginning. Where is the beginning?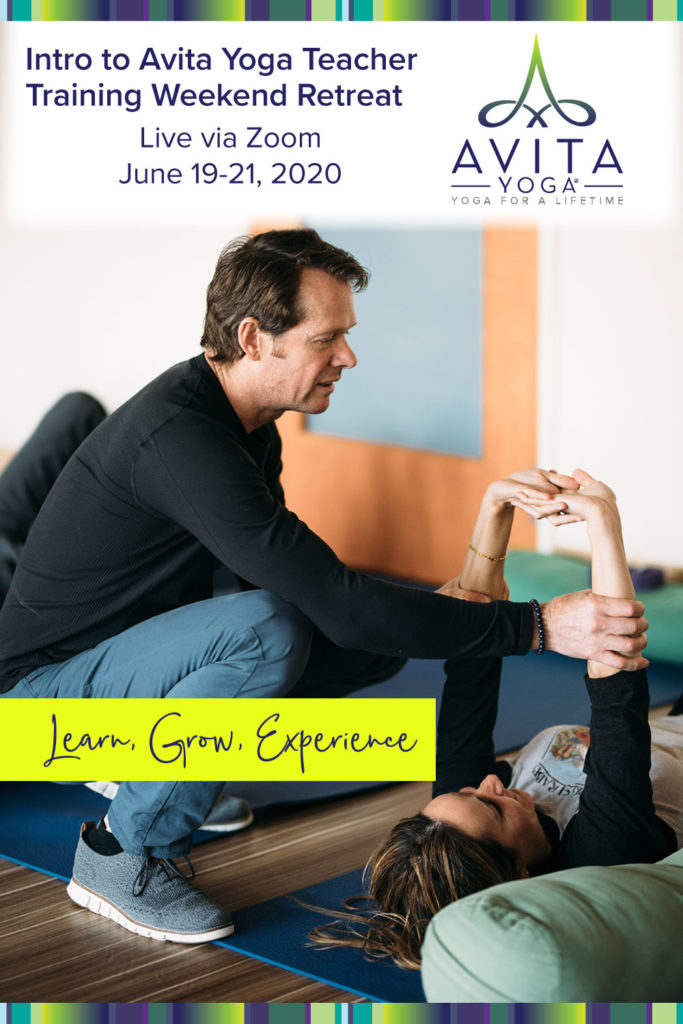 We'll open with a short discussion and practice that sets the tone for the weekend and brings purpose for everything to come. In doing so, we touch on the healing principles of the practice.
Saturday, June 20
9:00 – 10:00  Avita Green Practice
10:00 – 10:15 Break
10:15 – 11:30
What is Avita Yoga? What are we doing and how does it work?
This discussion explains the link between anatomy, physiology, and the mind where all healing occurs. If we miss any of these steps, we simply trade one temporary effect for another and never get to the cure.
Assignment: Learn the bones in the skeleton
11:30 – 1:00 Lunch break
1:00 – 2:00 Physiology of the Breath
Learn why it's now more important than ever to breath (only) through your nose!
Dr. Kemmet, DDS is an expert on occlusion, the airway and why mouth breathing is harming to the system. Even when it comes to the breath, less is more!
2:00 – 3:30 Break
3:30 – 4:30 Avita Green Practice
4:30 – 4:45 Meditation: We rest by awakening, not by sleeping.
4:45 – 5:00 Closing
Sunday, June 21
10:00 – 11:15 Avita Orange Practice
11:15 – 11:30 Break
11:30 – 12:30
Quiz and review. Quiz!!??
I know. It's optional. The only reason we gently test is to facilitate learning. That, and the discussion that comes after the quiz is powerful!
12:30-1:15 Anatomy of bone and cartilage: Overuse/underuse and the role of Avita Yoga in maintaining osseous health.
1:15 – 1:30 Closing thoughts
[button color="default" link="https://avitaonline.com/product/avita-yoga-weekend-retreat/" size="default" target="_self" block="false"]REGISTER TODAY[/button]
 All Weekend Retreat participants are eligible to apply registration costs of the retreat to the full Avita Yoga Teacher Training through 2021.